Perhaps unsurprisingly, there were not a lot of people who wanted to come along with me to a movie about two divorced middle aged people finding someone.

Even when I waved the fact that James Gandolfini was in it, the Elaine (Julia Louis Dreyfus) factor seemed enough to put others off.

Which was a shame as Enough Said is actually really sweet. Dreyfus plays Eva, a masseuse, who encounters Albert (Gandolfini) a man in a similar situation to her and who shares her (not neurotically Elaine) sense of humour. They hit it off, but when Eva unwittingly becomes friends with Albert's ex Marianne (played by one of my favourites, Catherine Keener), Eva tries to find out what went wrong with the relationship without letting either of them know that she knows them both.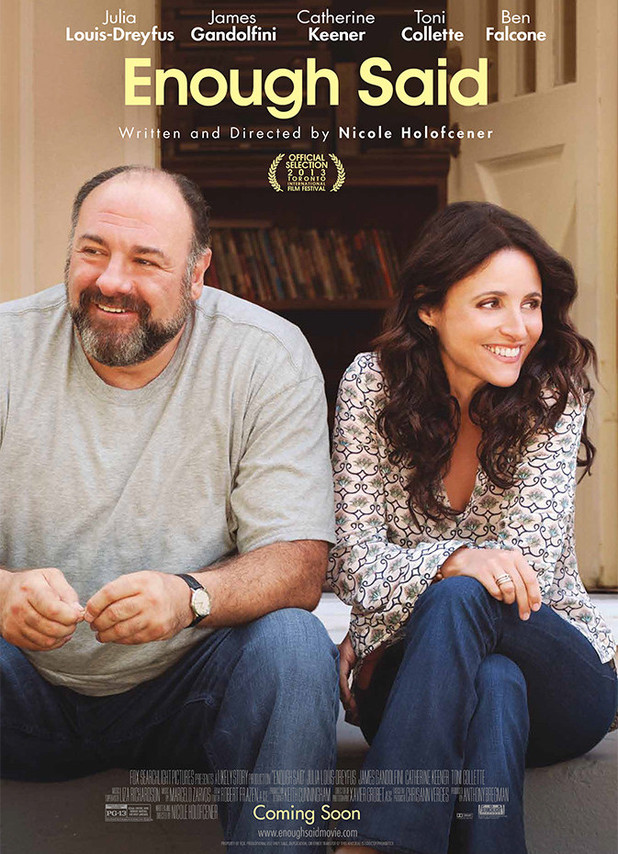 It's all incredibly predictable from there, so there are no real surprises how things turn out; and the above is what is in the trailer so again I am not really giving things away.

What livens things up a bit are the great performances. Albert is played as a loveable slob, and Gandolfini and Dreyfus make you see what they see in each other and why, after a little while, they begin to connect - and disconnect, as things progress. While I like Keener, I was not quite so won over by Eva, though as the ex wife in the not-much-love triangle, perhaps that is the intent of her character. It was also brilliant to see Toni Collette playing a character with an Australian accent (better when Eva says she doesn't understand a word she is saying) though her fraught relationship with her husband and domestic help again seemed to make her a little less than likeable - and of course, as always with these films, she was noticeably absent whenever Eva had a crisis, as best friends seem wont to do in the movies.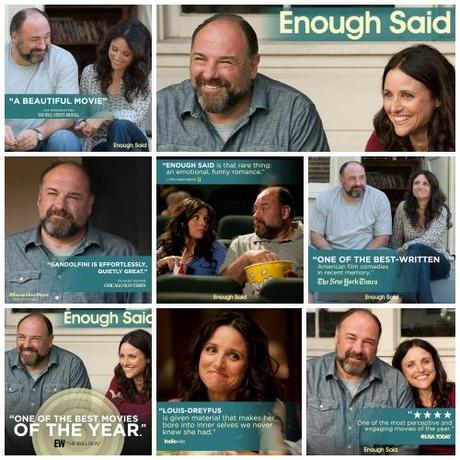 Overall though, as mentioned, the performances are great, and the interaction (besides the aforementioned contrivances) seem natural. Eva's daughter and the daughters of all the other characters seem a little sketchy, perhaps due to the actresses playing them or perhaps due to the fact their storylines are so minor in comparison with that of Albert and Eva, but elsewise, its all pretty awesome.

And the film does not outstay its welcome either, finishing up after a sweet, amusing and occasionally painful 90 minutes.

But it leaves the big question unanswered: can James Gandolfini actually whisper?

Verdict: I don't need to write a lot about Enough Said. It's a well written rom com with some lovely performances from the leads even if the story itself is fairly straight forward - not that there is anything wrong with that. 7.5 rearranged items of furniture out of 10.